Ecco i nuovi spoiler tratti dal nuovo SOS!
Nick impara che Jack e Sharon sono finiti come coppia
Mary Jane mette qualcosa nel drink di Jack e uomo credendo di far amore con Sharon( allucinazioni) fa amore con Mary Jane .... ahahahahahah un'altra pazza che potrebbe diventare madre di un figlio Jack ehehehe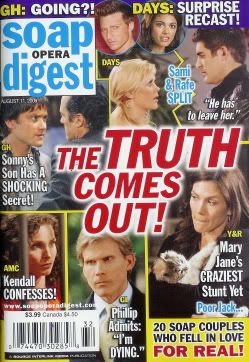 LATE-BREAKING NEWS
Maureen Garrett Returns to GL
GH: Who's Staying? Who's Going?
Y&R's Nick Learns That Jack and Sharon are Over
Kendall Confesses on AMC!
OLTL Double Wedding Drama
Trouble for ATWT's "Nuke"
GL: Dinah and Shayne Wed
B&B's Jackie Gets Trapped
HOT PLOTS PREVIEW
AMC: Adam and Annie Get Engaged
ATWT: Paul Bankrolls Emily
GL: Phil to Alan: "I'm Dying."
DOOL: Kate Still Digs Daniel
EDITORS' CHOICE:
Double the Pleasure, GL & B&B
PERFORMER OF THE WEEK:
Hillary B. Smith (Nora, OLTL)
I got to go out so that's it for now. Before I go, Y&R spoilage: MJ basically rapes Jack. Slips something into his drink. He thinks she's Sharon. She plays along. She blind folds him and has sex with him on the couch. He passes out, she's happy.